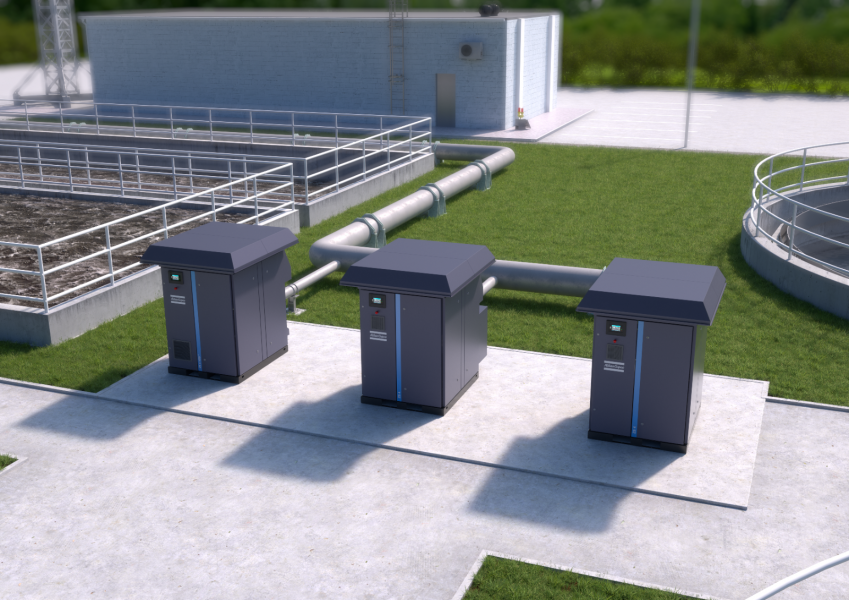 Oil-free for low pressure applications, Atlas Copco new generation blower, newly developed rotor with frequency conversion technology ideal to match sewage treatment.
Contact >
Easy to install set blower
Our plug and play solutions simplify the installation of your unit. You do not need to purchase additional components to put the unit into use.
Use VSD blowers to save energy as much as possible
Our Variable speed drive (VSD) technology ensures that your unit does not use more energy than it needs, thereby reducing energy consumption and reducing its impact on the environment.
Simplify management and maintenance
To further improve the efficiency of your process and ease of use of your blower unit, we provide you with different ways to monitor your unit.
Structure of blower
The blower is mainly composed of the following six parts: motor, air filter, blower body, air chamber, base (and tank), drip nozzle. The blower operates on the biased rotor in the cylinder, and makes the volume change between the blades in the rotor slot suction, contraction and spit out air. In the work, the pressure difference of the blower is used to actively smooth to the drip nozzle, drop into the cylinder to reduce friction and noise, together can adhere to the cylinder gas does not return, this type of blower is also known as the sliding vane blower.
We provide mobile diesel air compressors
From small, medium and large air compressors, you can choose the compressor that meets your needs. They are an important aid to companies that need to carry tools with them wherever they go. Our compressors are optimized for ease of transport and easy operation, allowing you to easily meet your requirements for compressed air wherever you need it. Our series of air compressors are towed and transported by vehicles all over the world, so they have good mobility and can change the location of work at any time according to your needs. Developed in collaboration with our customers, we ensure that we provide you with the most compact, balanced design and excellent level of efficiency. In addition, many of our models are also equipped with the classic Hardhead & Reg; The casing!
Full range of electric compressors
We focus on innovation and manufacture a full range of electric compressors.
No emissions (because no diesel)

Low noise (because no diesel engine)

Compact portable unit, can be transported to the need for compressed air

The full range includes variable speed drive and constant speed compressor
---

Wechat
---
All Rights Reserved © 2022 Tianjin Atpuco Screw Compressor Co., Ltd